TSA Lock Instructions
WHAT IS A TSA LOCK?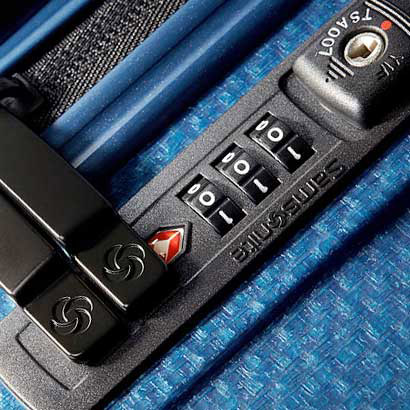 WHAT IS A TSA LOCK?
TSA: TRANSPORT SECURITY ADMINISTRATION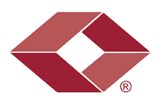 TSA locks are required for all customers travelling to the USA. The TSA screens every passenger's baggage before it is placed on the plane. At their discretion, from time to time, they choose to open a passenger's luggage for closer inspection. When this occurs, if the luggage is fitted with any lock other than those approved by the TSA, they will destroy whatever lock is fitted to gain access.
Luggage locks approved by the TSA have a universal master key that will open the locks. Only the TSA have a copy of this master key. Every TSA approved lock has an identifying mark that shows it may be opened by the master key. All Samsonite TSA locks feature the red TSA logo.
RESETTING YOUR LOCK
RESETTING YOUR LOCK
Have the lock set on your original combination.
Repeat steps as described for each variation of lock (see below).
NEED ASSISTANCE?
Feel free in get in contact with us, our Customer Service team are available 9 AM - 5 PM Monday-Friday, call 1800 331 690.
All locks are set to a default of 0-0-0 at the factory. If you've forgot your unique combination you are going to need assistance from a Samsonite Authorised Repair Centre to unlock your combination lock. To locate your nearest Repair Centre, please click here.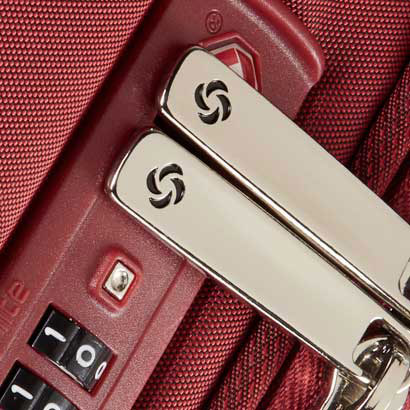 LOCK VARIATIONS
Please find your lock instructions below:
TSA COMBINATION LOCKS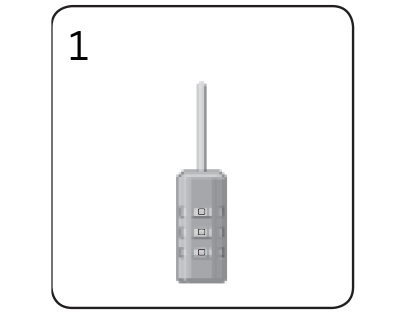 SET CODE TO 000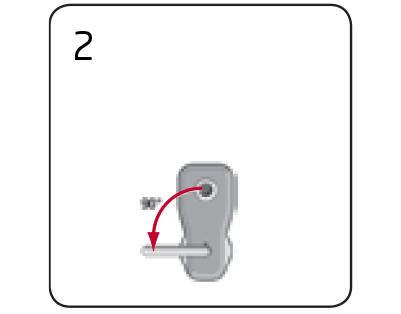 TURN 90°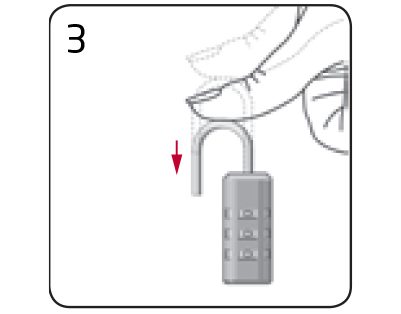 PUSH DOWN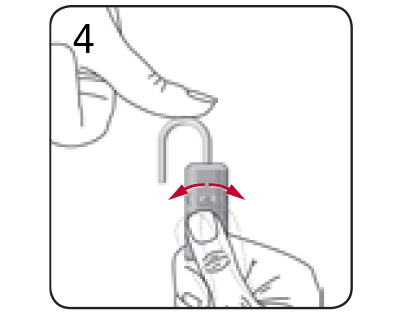 HOLD DOWN & SET CODE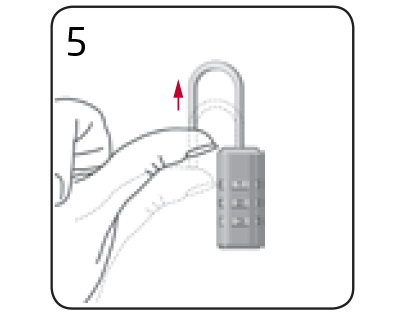 PULL UP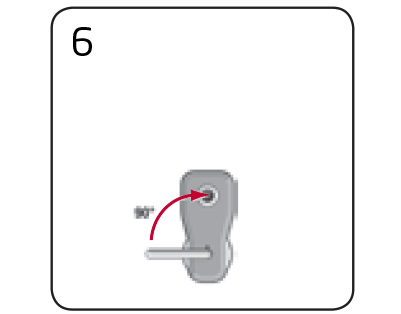 TURN BACK TO LOCK POSITION
FEATURED ON 72 HOURS DLX

SET CODE TO 000 & PUSH IN BUTTON WITH PEN

REMOVE PEN, BUTTON WILL STAY PRESSED IN

SET CHOSEN CODE

SLIDE BUTTON ACROSS TO SET CODE
FEATURED ON LITE-BIZ

SET LOCK TO 000 & PUSH IN BUTTON WITH PEN

BUTTON AUTOMATICALLY STAYS PUSHED IN

SET CHOSEN CODE

RELEASE BY PRESSING SIDE BUTTON
FEATURED ON ARQ AND EVOA

SET CODE TO 000 & PUSH IN BUTTON WITH PEN

REMOVE PEN, BUTTON WILL STAY PRESSED IN

SET CHOSEN CODE

SLIDE BUTTON ACROSS TO SET CODE
BASE BOOST 2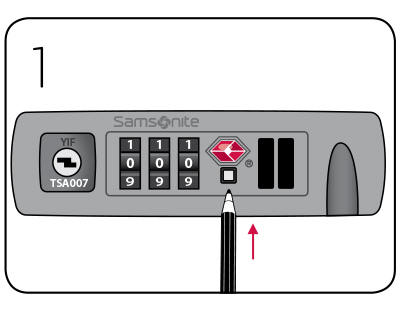 SET LOCK TO 000 & PUSH IN BUTTON WITH PEN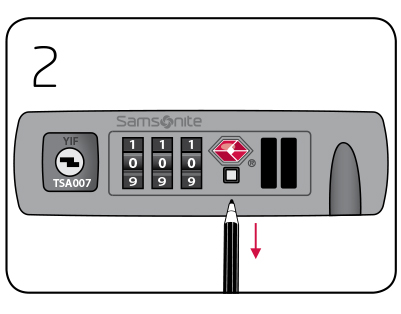 BUTTON AUTOMATICALLY STAYS PUSHED IN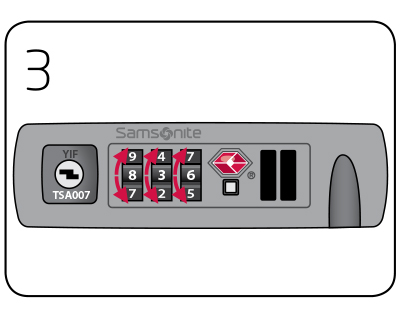 SET CHOSEN CODE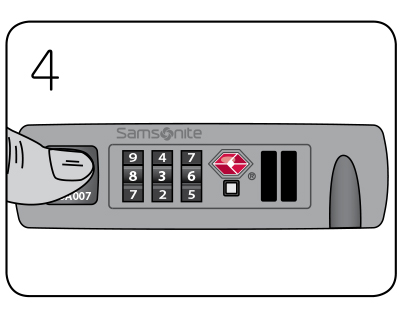 RELEASE BY PRESSING SIDE BUTTON
HOW TO SET THE CABLE LOCK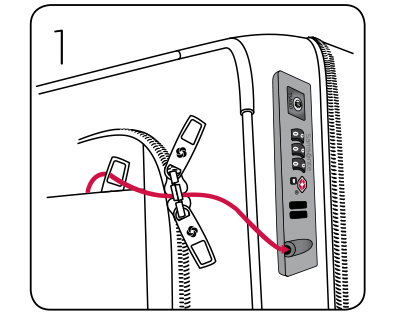 WEAVE THE CABLE THROUGH THE ZIP RINGS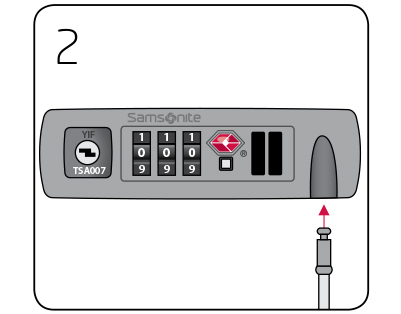 SECURE CABLE INTO THE COMBINATION LOCK
INFINIPAK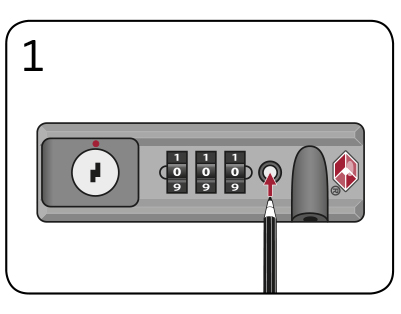 SET LOCK TO 000 & PUSH IN BUTTON WITH PEN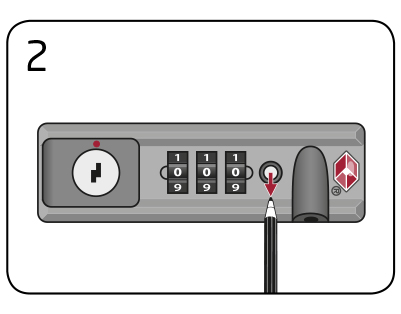 BUTTON AUTOMATICALLY STAYS PUSHED IN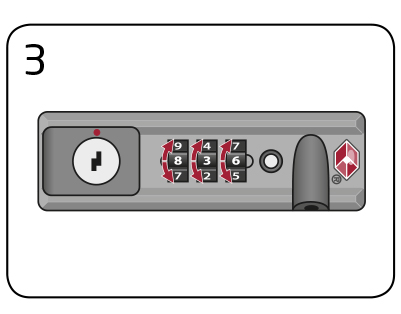 SET CHOSEN CODE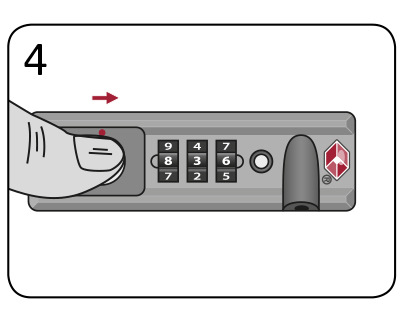 RELEASE BY PRESSING SIDE BUTTON
HOW TO SET THE CABLE LOCK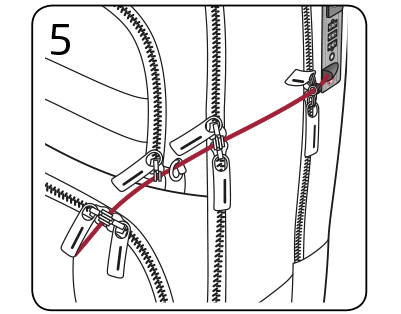 WEAVE THE CABLE THROUGH THE ZIP RINGS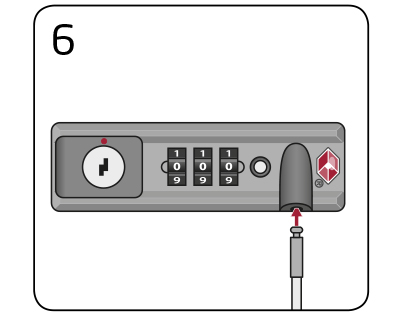 SECURE CABLE INTO COMBINATION LOCK
FEATURED ON LITE-CUBE, LITE-CUBE DELUXE, B'LITE 3, OPTIC, OPTIC EXP, OCTOLITE, COSMOLITE 3.0, UPLITE SPL AND FUZE

SET LOCK TO 000 & PUSH IN BUTTON WITH PEN

BUTTON AUTOMATICALLY STAYS PUSHED IN

SET CHOSEN CODE

RELEASE BY PRESSING SIDE BUTTON
FEATURED ON LITE-SHOCK

SET CODE TO 000 & PUSH IN BUTTON WITH PEN

REMOVE PEN, BUTTON WILL STAY PRESSED IN
SET CHOSEN CODE & SECURE ZIPPERS INTO LOCK

SLIDE BUTTON ACROSS TO SET CODE
LITE-SPHERE SPL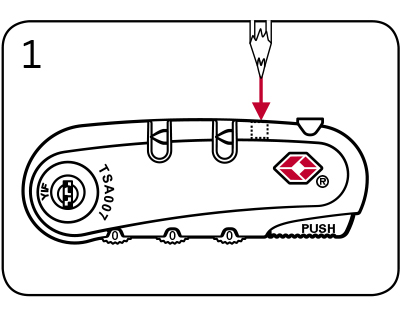 SET LOCK TO 000 & PUSH IN BUTTON WITH PEN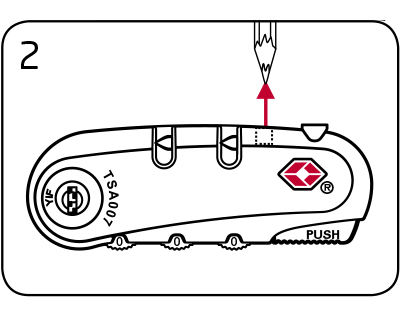 BUTTON AUTOMATICALLY STAYS PUSHED IN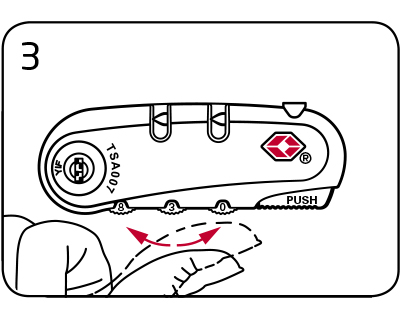 SET CHOSEN CODE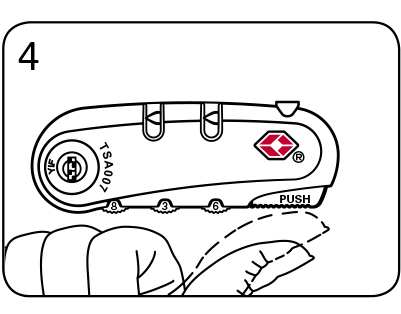 RELEASE BY PRESSING SIDE BUTTON
HOW TO SET THE CABLE LOCK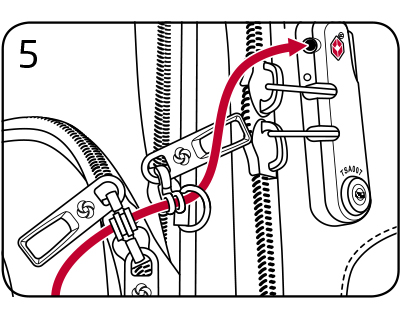 WEAVE THE CABLE THROUGH THE ZIP RINGS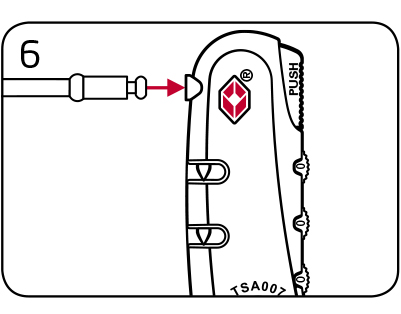 SECURE CABLE INTO COMBINATION LOCK
FEATURED ON PLATINUM LITE AND MEMPHIS

SET CODE TO 000 & PUSH IN BUTTON WITH PEN

REMOVE PEN, BUTTON WILL STAY PRESSED IN

SET CHOSEN CODE

SLIDE BUTTON ACROSS TO SET CODE
FEATURED ON PIXELON

SET CODE TO 000

PUSH BUTTON ACROSS & HOLD

CONTINUE HOLDING BUTTON & SET CHOSEN CODE

RELEASE BUTTON
PRODIGY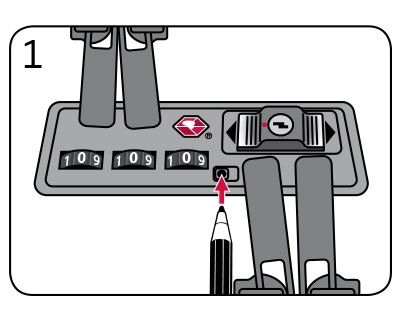 SET CODE TO 000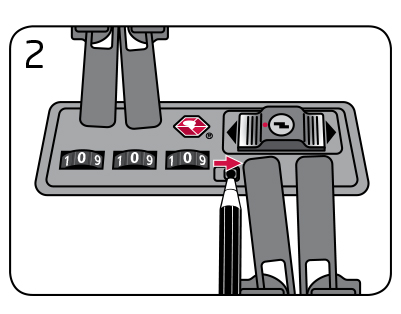 SET CODE TO 000 & PUSH IN BUTTON WITH PEN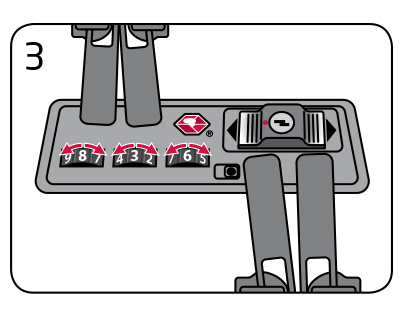 SET CHOSEN CODE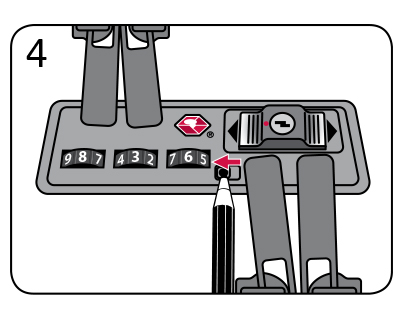 MOVE BUTTON BACK TO ORIGINAL POSITION
HOW TO RELEASE DUAL LOCK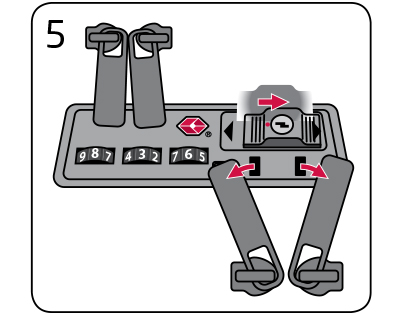 SLIDE LOCK TO RIGHT TO RELEASE ZIPS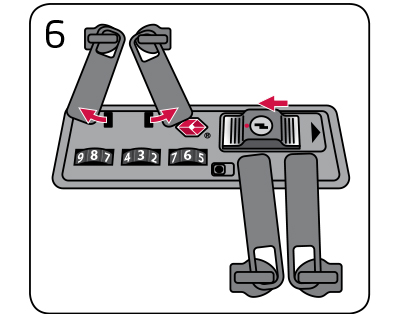 SLIDE LOCK TO LEFT TO RELEASE OPPOSITE ZIPS
OCTOLITE SS AND SMARTTOP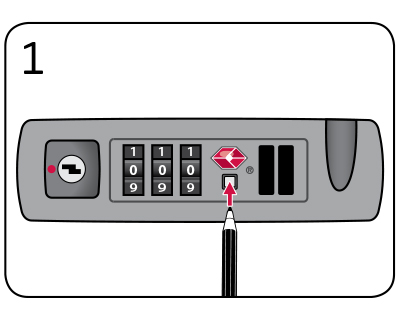 SET LOCK TO 000 & PUSH IN BUTTON WITH PEN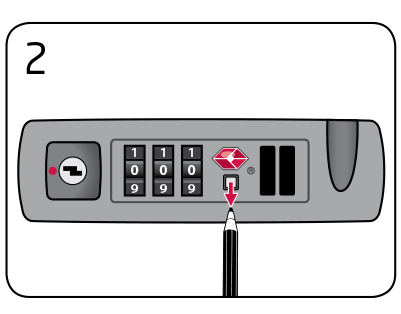 BUTTON AUTOMATICALLY STAYS PUSHED IN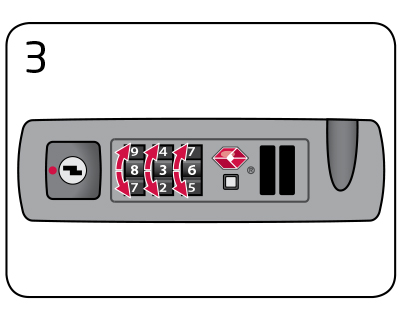 SET CHOSEN CODE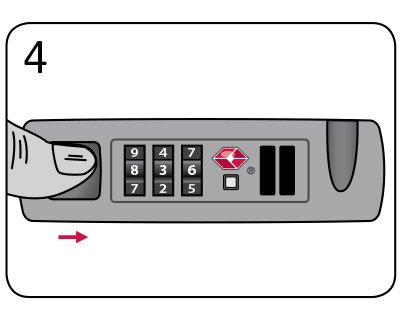 RELEASE BY PRESSING SIDE BUTTON
HOW TO SET THE CABLE LOCK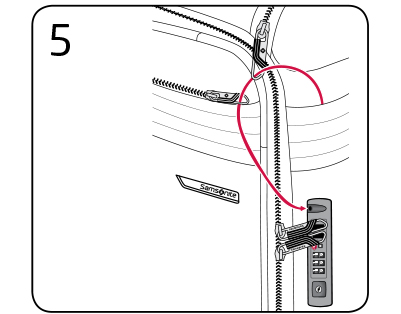 WEAVE THE CABLE THROUGH THE ZIP RINGS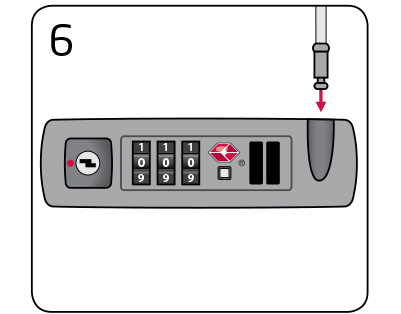 SECURE CABLE INTO COMBINATION LOCK
FEATURED ON ENGENERO AND SPIN TRUNK

SET CODE TO 000

CONTINUE HOLDING BUTTON AND SET CHOSEN CODE

PUSH BUTTON ACROSS AND HOLD

RELEASE BUTTON TO SET NEW CODE
FEATURED ON LITE-LOCKED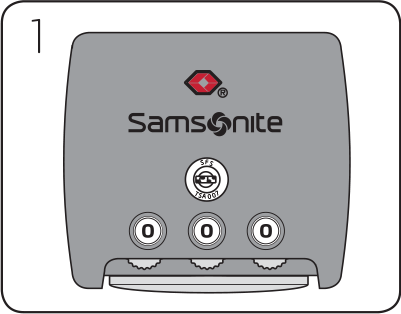 SET CODE TO 000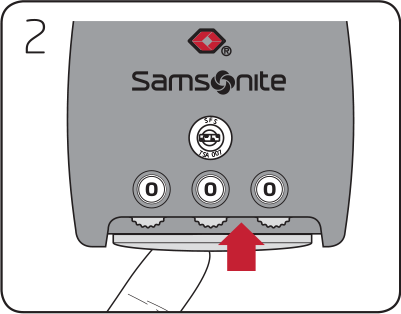 PULL LOCK UP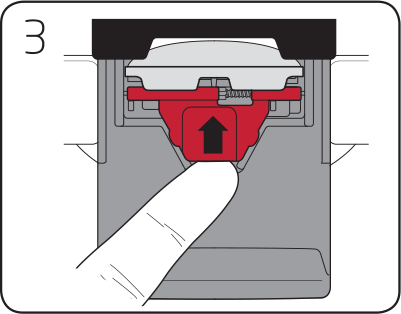 MOVE RED TAB UPWARDS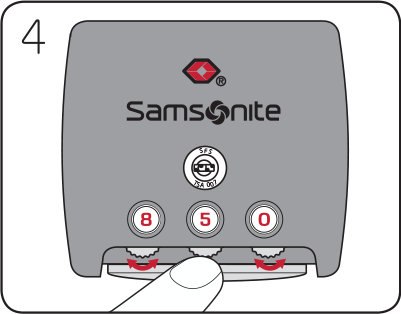 SET CHOSEN CODE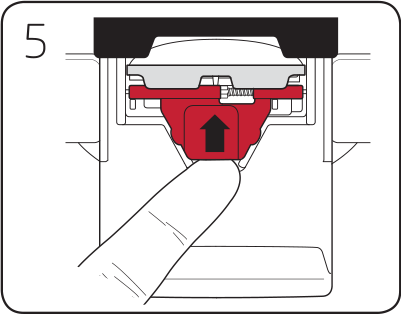 RETURN RED TAB TO ORIGINAL POSITION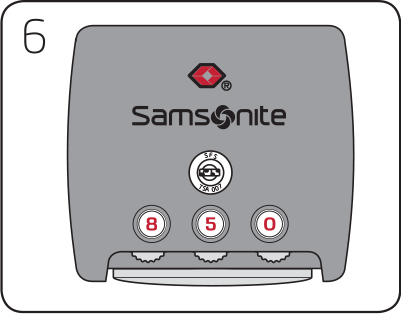 COMPLETE
FEATURED ON S'CURE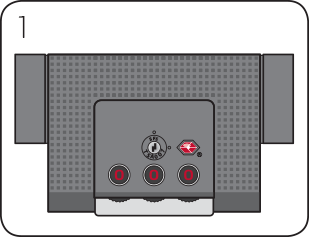 SET CODE TO 000
PULL UP LOCK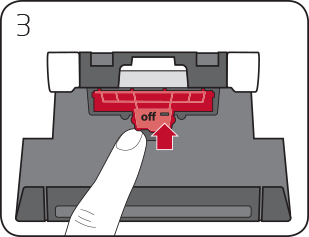 MOVE RED TAB TO OPEN POSITION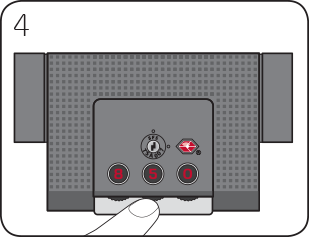 SET CHOSEN CODE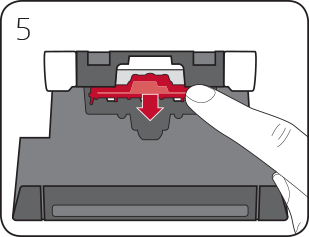 RETURN RED TAB TO ORIGINAL POSITION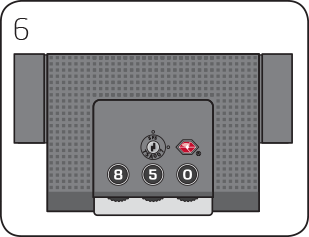 COMPLETE
FEATURED ON FIRELITE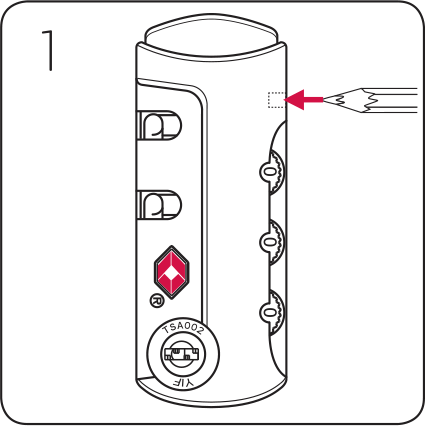 SET LOCK TO 000 & PUSH IN BUTTON WITH PEN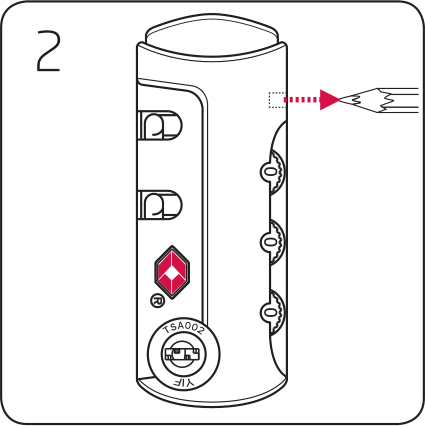 BUTTON AUTOMATICALLY STAYS PUSHED IN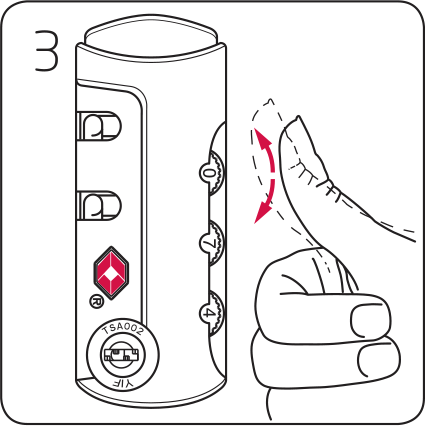 SET CHOSEN CODE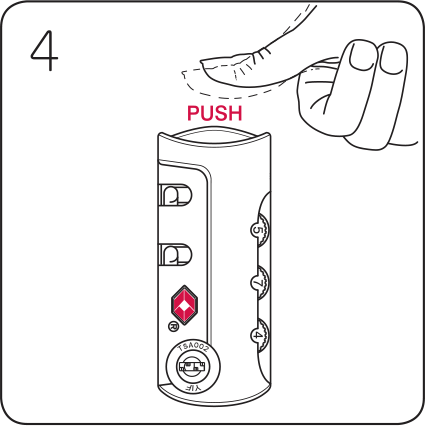 RELEASE BY PRESSING TOP BUTTON
FEATURED ON DURANXT LITE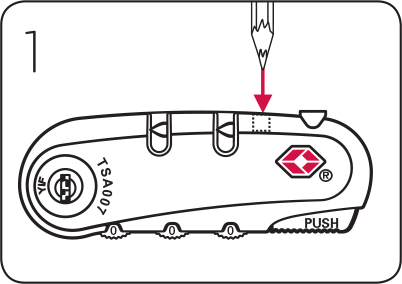 SET CODE TO 000 AND USE PEN TO PUSH IN BUTTON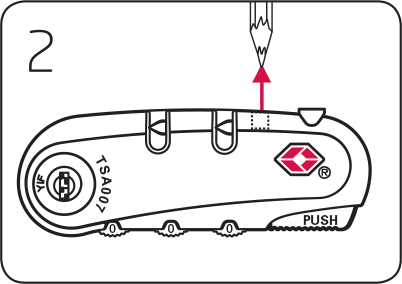 RELEASE THE PUN, BUTTON WILL STAY PUSHED IN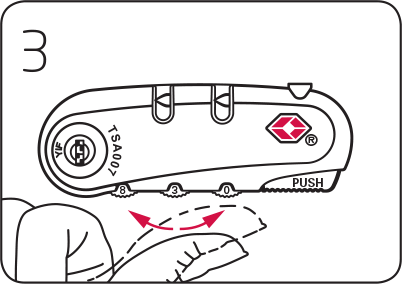 SET CHOSEN CODE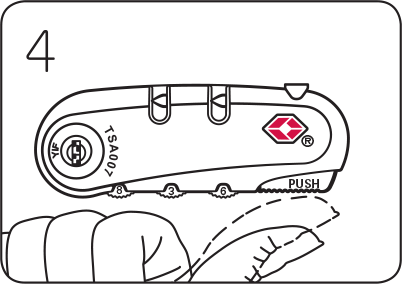 PUSH TOP BUTTON TO SET THE NEW CODE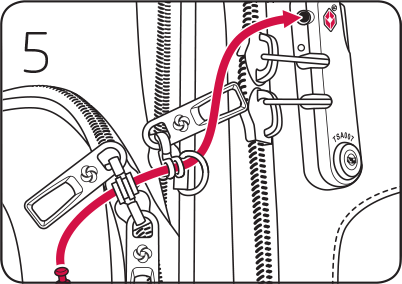 TO SET THE CABLE LOCK WEAVE THE CABLE THROUGH THE ZIP RINGS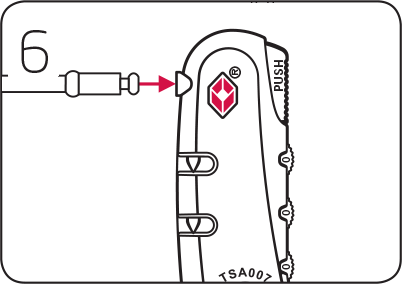 SECURE CABLE INTO COMBINATION LOCK
FEATURED ON SAVIO LEATHER IV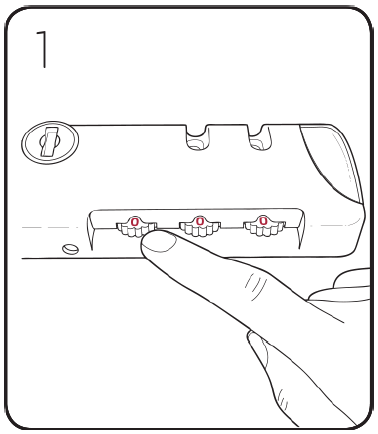 SET LOCK TO 000 & PUSH IN BUTTON WITH PEN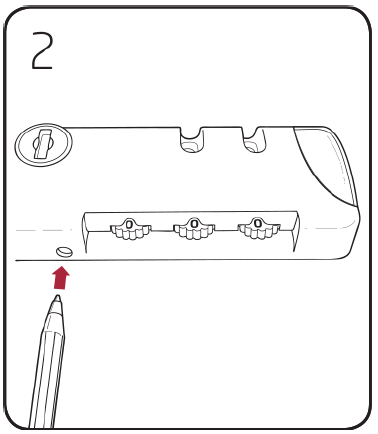 BUTTON AUTOMATICALLY STAYS PUSHED IN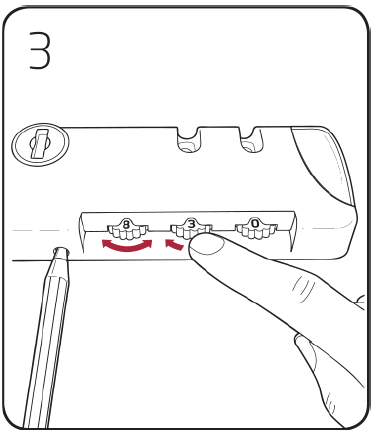 SET CHOSEN CODE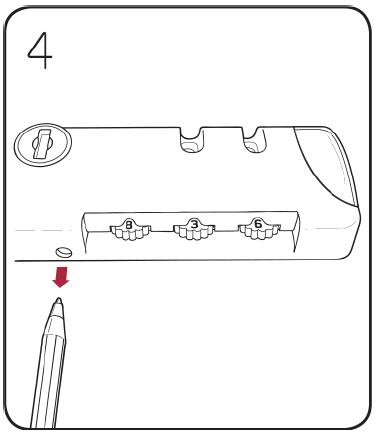 RELEASE BY PRESSING SIDE BUTTON
FEATURED ON TRU FRAME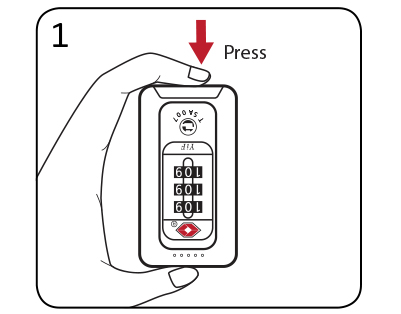 PRESS BUTTON IN TO RELEASE LOCK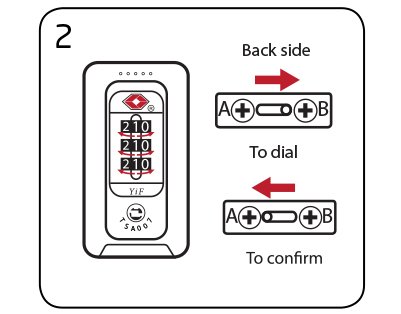 SET CHOSEN CODE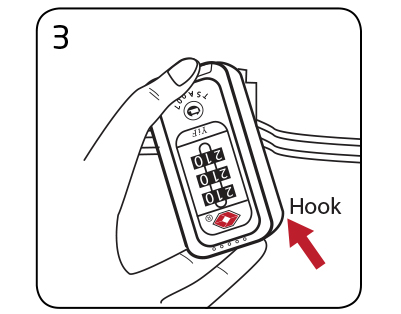 TWIST LOCK INTO HOOK TO SECURE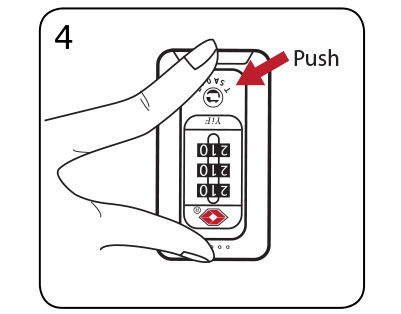 PUSH INWARDS TO SET LOCK