Fast Free Standard Delivery

Free Delivery

Secure Payment

Secure Payment

Official Online Shop

Official Shop
Bring Your Luggage on Board

Your Guide to Carry On Cases

B-LITE 3

The Light Choice
Suitcases with tsa locks

For Travel to the USA

Curv Technology

Why Choose Curv Material?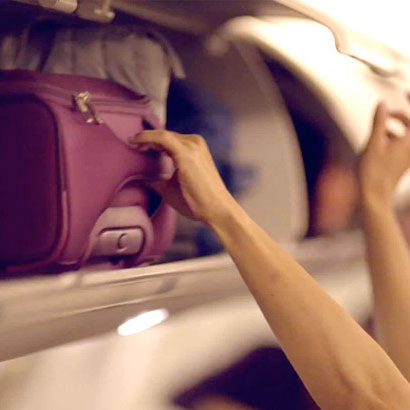 PREFER TO BRING YOUR LUGGAGE ON BOARD?
Your Guide to Carry On Cases
You prefer to bring your luggage on board. Why lose precious time standing around the baggage claim? By carrying on your cabin bag, you can already be on your way to your final destination.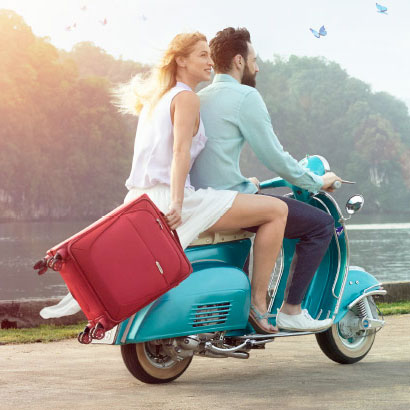 B-LITE 3
THE LIGHT CHOICE
Samsonite's best-selling B-Lite lightweight suitcase range continues to evolve and reinvent itself. This iconic collection keeps its strong design DNA, combined with enhanced features, elegant colours, optimised volumes and more protection, but now even lighter than before. This super lightweight luggage collection comes in a variety of different sizes to suit all travellers needs.
Unique and iconic design
Triple 360° injected corner protection
Smooth-rolling double wheels
Only 1.9kg for the 50cm Spinner
B-Lite is the light luggage choice for any trip. Travelling has never been so easy.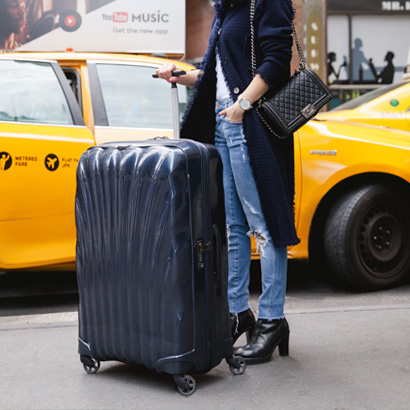 SUITCASES WITH TSA LOCKS
Luggage for a trip to the USA
Ensure your bag is compatible with US security regulations with our hard and expandable suitcase range. These suitcases are ideal for long haul flights and are all equipped with TSA locks. The US Transportation Security Administration (TSA) screens every hold bag before it enters the aircraft, occasionally hand inspecting the contents.
The TSA lock allows US security officers access without having to break open the lock, all whilst remaining highly secure to the rest of the world.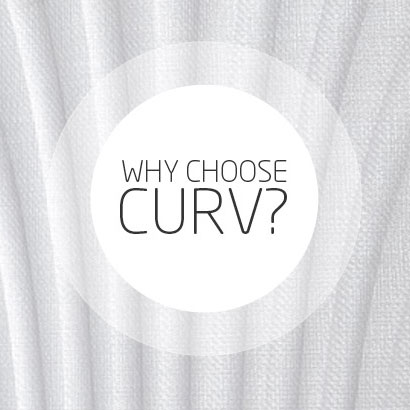 WHY CHOOSE CURV MATERIAL?
Curv Technology
It's an innovative material that's extreme impact resistant & exclusive to Samsonite for luggage.
Extremely high energy absorption before breakage per unit of material thickness.
Curv is a unique material that becomes stronger at lower temperatures.
Patented shell forming process.
Extra light, extra strong.
EXPANDABLE LUGGAGE
BRING HOME MORE MEMORIES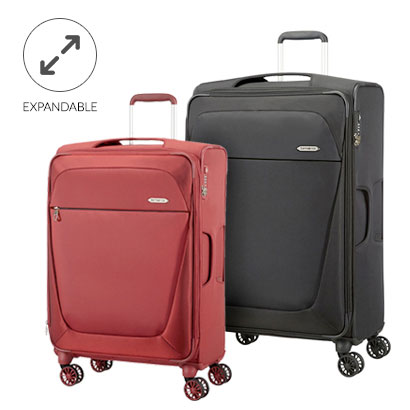 EXPANDABLE LUGGAGE
BRING HOME MORE MEMORIES
Every traveller will reap the benefits of expandable luggage, giving you the option to pack more or fewer items whenever necessary. These easy to use, space-saving bags are an essential part of any journey. Samsonite's expandable luggage collections are a great choice if you want more space to bring back all those holiday souvenirs and extra purchases. Durable and with increased packing capacity, these expandable suitcases and bags give you the flexibility you need whether you're a frequent traveller or a once-a-year tourist.
LUGGAGE
At Samsonite luggage is more than just a means of transporting your belongings across the globe. Good luggage will, of course, protect your precious belongings, but choosing the right case can make packing a pleasure, and make airport corridors feel like a walk in the park. The right suitcase can help you stand out from the crowd, and the perfect business case can give you confidence in the most challenging interview. Rest assured that whatever the journey Samsonite will have the right luggage for you.
Our luggage options include:
Suitcases
Cabin luggage
Mobile offices
Beauty cases and toilet kits
Garment bags
If you are travelling just for a night or two, our extensive range of lightweight luggage is perfect for packing the essentials. Need a little more room? Don't worry, we have a host of larger cases and travel bags too, perfect for check-in. Don't forget all Samsonite cases come with our legendary reputation for quality and our truly global service network.
Whether you prefer a super tough hard shell case or like the flexibility of a soft case that offers expandability and extra capacity, we have cabin cases for all your needs. Maybe you are a more casual traveller, or someone who needs to work whilst on the move? Don't worry we have a travel solution for you too.